Fevicol brand has got two varieties of adhesive in the market. One is Fevicol SH and other is Fevicol MR. SH is used for woodwork and it gives a strong and lasting bond. MR on the other hand is a designed keeping in mind art and craft. It can be used on a variety of surfaces like glass, MDF, canvas, etc. Fevicol SH is sold in carpentry shops while Fevicol MR is sold in art and craft and stationary shops.
For a beginner it is always a question that which product is used for which purpose. Fevicol has made it easy for us to differentiate the purpose of each depending on where it is sold.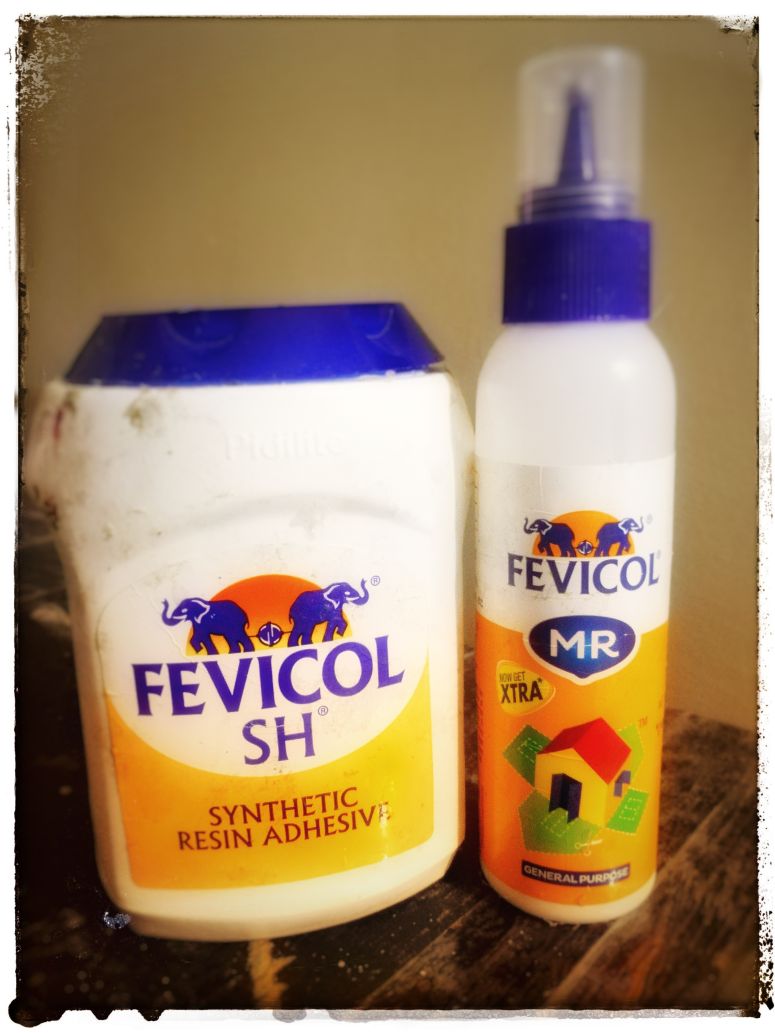 Fevicol MR and Fevicol SH
SH is synthetic resin glue which means that the resin will harden after drying. SH combines with Wood fibres to give a strong and lasting bond but the application and drying process is very slow. You must have seen the carpenters working on Wood glue. It is thicker and applied with hard card. Fevicol SH is also known as Carpenters Glue.
In Decoupage process the adhesive used has to dry to a transparent finish so that the tissue or the color is not diluted or spoiled by the adhesive. Fevicol MR fits the bill perfectly.

It is a milder adhesive and works well with all kinds of delicate material like paper, cloth, MDF, glass, etc. It can be applied with a broad brush and dries to a non glossy matt finish.
Fevicol MR is an ideal glue for decoupage. It is inexpensive, easily available in various sizes and can be directly applied on any surface without any preparations. Besides adhesive, it can also be used for crackle effect. It mixes easily with acrylic colors and one can try out different effects by mixing it in various proportions. But is it a replacement for Mod Podge. We will see the use of Fevicol MR and Crackle effect in the next article.