Decoupage gets its name from the French art of pasting paper on objects. It involves a special technique where a glue is applied with the paper layer after layer. After the final layer is applied, the object looks as if it is painted rather than paper pasted. Depending on the quality of paper, the effects of Decoupage are stunning. To read more click below.
History of Decoupage
The word Decoupage originated from a French word decouper which means to cut. For centuries people used the technique of cutting and pasting on objects. It was mostly done as a work of art. Various types of glue or lacquer was used. For example Chinese used to cut and paste paper to decorate windows, lanterns, etc. People used to cut paper from newspaper or magazine and then mostly stick it on furniture to make it more attractive.

But it was not until 17th century in Venice, Italy that the craze actually caught on. While wealthy people used to import lacquer furniture from Far East due to trade link, it was expensive. Side by side there was an army of artisans who reproduced famous art work on paper. And then it was pasted on wooden planks, furniture items or even ordinary objects. Layers and layers of lacquer and paper were glued on to give the effect of original work. It was the time of crazy demand. Decoupage or Deco art spread like a craze throughout Europe for the next two hundred years.

Today decoupage has taken the form of modern decoupage where specific material and innovative techniques have made it so popular across the world.
Items used for decoupage
Decoupage paper
Decoupage glue like mod podge
Set of brushes to apply glue
Gesso
Acrylic colours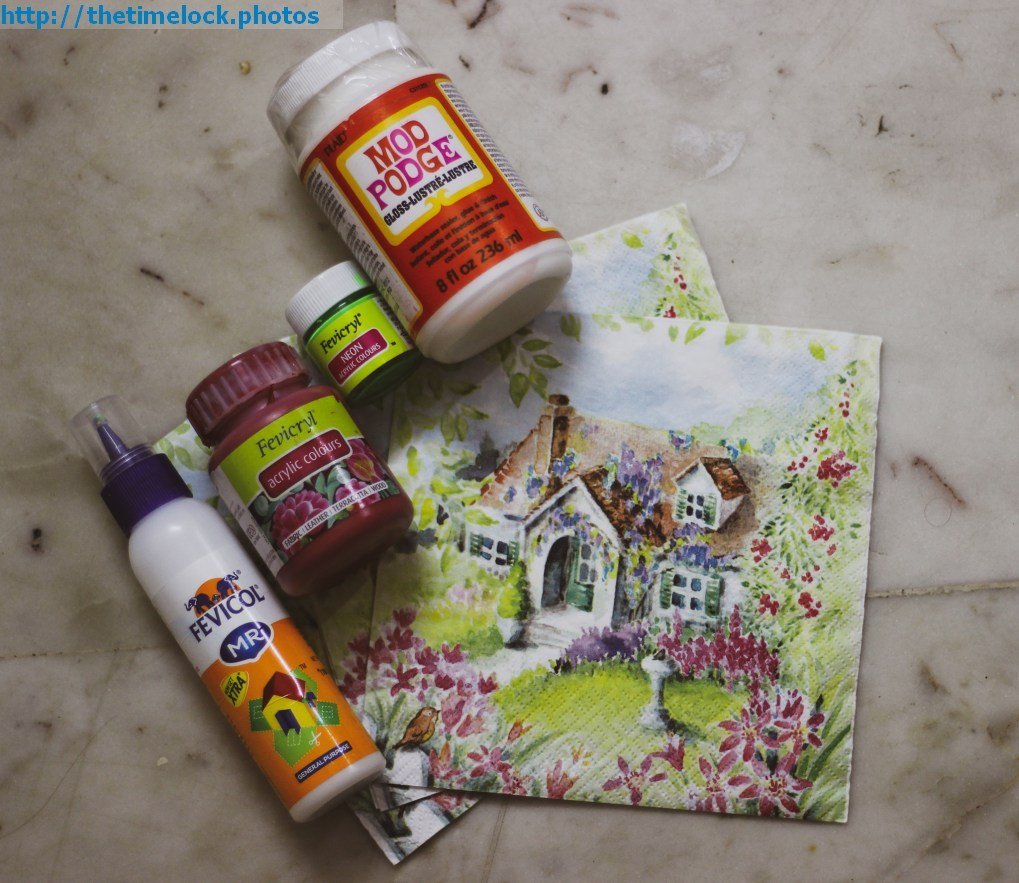 Decoupage Paper
Decoupage paper is the most important component of the whole decoupage process. On the face it is just a multi ply tissue paper. But decoupage paper has bright and vivid designs printed on a good quality tissue paper. Decoupage paper from Europe still is the best as it has specially been made for decoupage purpose. It is commonly know as German paper. In India, a few paper craft manufacturers have decoupage paper in their product catalogue.
Some tissue papers have beautiful patterns printed on them, ideal for decoupage. But they come in a pack of 50 or 100. So keep that in mind. Decoupage paper is multi ply. So please be sure to remove the layers before using.
To read more about decoupage paper, click on the button below
Decoupage Glue
Earlier all sorts of home grown and commercial glue was used. Before that it was lacquer for the gloss finish it provided. But when Mod Podge arrived on the scene, it altered decoupage forever. Decoupage glue is a three in one glue which acts a glue, sealer and finished. You can keep applying layers of paper and glue, one over the other. Mod Podge is a product by Plaid and they have a huge range of glues for each purpose.
We have two new products in the Indian market, Decoupage glue by Little Birdie and Fevicryl has launched Modge Podge. Decoupage glue is available in major stationary stores and online websites.
Tools for Decoupage
Basic tools used for decoupage is a set of flat brushes to apply glue and another set for using acrylic colors. Color can be applied by a set of sponge. Decoupage artists also use archival inks using stencils. Coloring techniques like crackle effect and pour art is also used. There are a variety of color mediums but acrylic colors are the best. Before applying color, the surface has to be prepared with gesso.
To feature your work on this website, mail us at [email protected]